---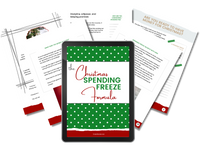 I know we're all looking for ways to save money and get out of debt this season, so I've written a new guide: The Christmas Spending Freeze Formula.
We all want to celebrate and be excited about gifts that we give our family members-but it's important to plan ahead, because nothing will ruin the holiday spirit more than waking up on December 26th in debt with tons of credit card bills piling up like snow! 
Did you know that the average person spends up to five times as much on Christmas gifts than they otherwise would have if they forego a gift for every occasion?

But luckily, there's something we can do about it! The Christmas Spending Freeze Formula is a new ebook full of strategies and advice from a certified financial coach who will fill your head with everything you need to know about how best to save, prepare and spend during the holiday season.
This means less stress around what to give your loved ones too. And more importantly - lots of extra cash in the bank! So go ahead and grab The Christmas Spending Freeze Formula TODAY!